New Débarrasse Vinyles the Sunday 4th September 2022 9am-5pm
at Juan les Pins !!
How does it work ?
This event is organized for private and professional sellers of vinyl records.
The idea is not specially to get together vinyl collectors, but it is also for anybody who wants to get rid of their disc stacks, and for anyone who wants to find vinyl records at a good price.
All this in a good place at La Pinède of Juan-les-Pins !!
This event is being promoted through social networks and on specialized websites.
This is being organized by a benevolent association.
It is also possible to give us or sell us for a cheap price your vinyl records, knowing that profits are invested into the association. and an other part is reversed to Association Française de l'Ataxie de Friedreich, rare genetic disease little known by the public. All vinyl record of our stall are for sale for a good cause !
Access to the general public is free, and a good price for exhibitors.
There is an online form to simplify the registration.
Contact us for more information !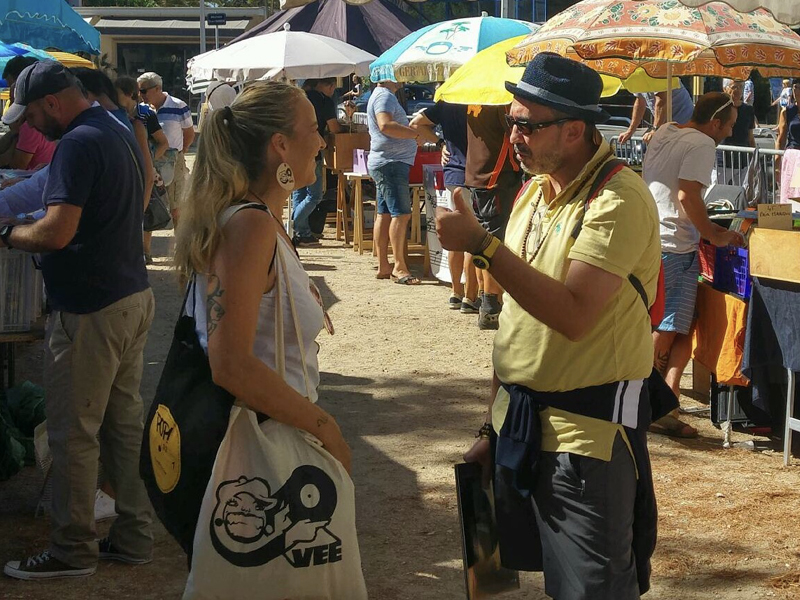 Regarding the pandemic, we could modify the organization or cancel the event, this until the last moment.
Friedreich's ataxia
When creating Pop Association, we wanted to support a charity.
Friedreich's ataxia is a neurological disease, progressive, rare, genetic, a close relative is affected by this disease.
We chose Association Française de l'Ataxie de Friedreich as it perfectly matches our expectation, it allows among others to help medical research by participating in its financing and collaborating in some studies, promote information about the disease and monitoring.
Part of the profit is donated to this association.
Don't hesitate to come and sell your vinyl records !!
The place
The exhibition will tale place at La petite pinède of Juan les Pins, next to the Whisky a Gogo and the Garden Beach (Jacques Leonetti street – see map below).
This area is reserved for us all the Sunday, postponed the next Sunday in case of bad weather.
It is planned to accommodate thirty exhibitors, with an area of 2m x 2m for each location.
Shade, we can feel the atmosphere of the « Jazz à Juan » with umbrella pines.
Parking spaces are available around the exhibition, underground parking located at Le Palais des Congrès 2 minutes walk from the place.
You can come by bus, and finally, the train station of Juan les Pins is a 6-minute walk to the exhibition.
Mailing list - Be informed, we will surely do more !